It's a shiny, sunny day in Barcelona and I'm in a darkish gallery watching a girl pull a scroll out of her vagina. Outdoors, skate boarders circle the CCCB, one of many metropolis's foremost arts centres. Inside? A unadorned teenage woman is consuming her grasp's excrement in a clip from Pier Paolo Pasolini's 1975 movie, Salò, or the 120 Days of Sodom.
Sade: Freedom or Evil is an exhibition exploring the affect and popularity of the infamous French author and thinker the Marquis de Sade – from whose title the time period sadism derives. It's not for the faint-hearted. It opens with a copy of his solely extant genuine portrait, a 1760 sketch of the 19-year-old De Sade by Charles Amédée Philippe van Lavatory, and juxtaposes it with Joan Fontcuberta's collage composed of 6,060 Google picture search outcomes for "Sade" and related phrases. The aim of Fontcuberta's piece is to depict present impressions of the Ancien Régime-Revolution straddling provocateur; amusingly, there are many photographs of the Clean Operator singer mingled amongst entwined limbs from hardcore motion pictures.
It's the kind of clever and curious work that typifies Freedom or Evil. For a lot of historical past, together with throughout his lifetime, De Sade has been solid as mere pornographer, a cartoon sensationalist or a twisted sicko. It's this characterisation that co-curators Alyce Mahon and Antonio Monegal are intent on difficult.
A Parisian nobleman born in 1740, De Sade spent nearly three many years of his life in jail, largely to discourage and suppress his specific and macabre writings. One jail sentence was the results of him sending his novel, Juliette – which runs the total Sadeian gamut from homicide to incest to cannibalism – to Napoleon, which was quite asking for it.
There is no such thing as a act of depravity that De Sade discovered too stomach-churning. His most well-known work – however in its unfinished state, his least achieved – 120 Days of Sodom encompasses a girl being raped to dying atop a mattress of nails. And that's not even essentially the most surprising vignette. Written on a 12-metre scroll, it was smuggled out of the Bastille into the febrile, pre-terror ambiance of Revolution. Two years in the past it was acquired by the French state for €4.55m.
De Sade's writings weren't about intercourse for the sake of intercourse. Or quite, they have been, however as a part of the overarching philosophy that the consummation and realisation of want, erotic or in any other case, represents the apotheosis of human liberty. Sade was each libertine and libertarian. He critiqued and satirised establishments, usually wittily promoting the hypocrisies of church, state, class, regulation and household. As questions of freedom and free expression are, naturally, perennial, Sade: Freedom or Evil turns into not only a historic present however a up to date one.
The primary part of the exhibition focuses on the distribution and unique presentation of Sade's work. Intercourse sells, and his clandestine works have been no exception. On show are first editions and engravings from a 1797 pirated second version of Justine, the (literal) sister novel to Juliette. There's a improbable Leonor Fini illustration from a 1944 version of Juliette: a gouache whirlwind of feminine dominance within the muscular type of two girls elevating whips in a fine-brushed kinesis.
Surrealists corresponding to Fini revered De Sade and revived his output; they have been his pure heirs of their unfettering of the unconscious and carnal, hedonistic method to the aesthetic. There are three Dalí works right here, together with a full-breasted portrait of everybody's erotic fave, Gradiva; and likewise Man Ray's cheeky 1933 homage to De Sade: a pair of male buttocks framed by an the other way up cross.
The exhibition additionally examines De Sade's relevance to queerness and kink within the latter half of the twentieth century. Particularly, the flourishing fetish tradition of the Nineteen Seventies that noticed the likes of homosexual BDSM membership Mineshaft develop into a staple of the New York underground membership scene. There are three images included right here from Susan Meiselas' 1995 collection Pandora's Field, her revisiting of the dominatrix studio she first documented 20 years earlier.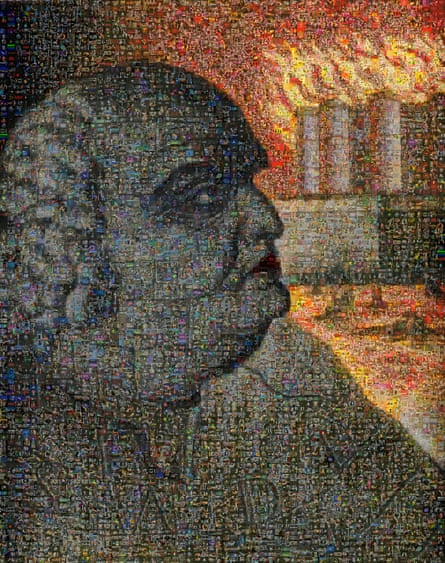 Robert Mapplethorpe's notorious X Portfolio (1978), that includes a liberal quantity of fisting, can also be current. When it was exhibited in 1989, it led to public outrage, a debate round US artwork funding and – 35 years after the writer Jean-Jacques Pauvert was taken to courtroom for reissuing De Sade's texts – an obscenity trial. Mapplethorpe was closely influenced by Pierre Molinier, a correspondent of André Breton's, and included are two of Molinier's black-and-white self-portraits, wherein he wears a corset, stockings and suspenders and high-heels. With a totally made-up face, he smiles into the digicam. It's heartening to see such overtly queer and sexually unapologetic work at a time when LGBTQ+ rights are below risk throughout the globe.
De Sade has lengthy been accused of misogyny however he was additionally praised by the likes of Simone de Beauvoir. Simply as his writing encompassed queer practices and passions, so too did they usually characteristic the sexual autonomy of girls and the rejection of hetero-patriarchal norms. Juliette, as an example, is a counter to the archetype of the submissive girl, whether or not in actuality or fantasy.
In Angela Carter's The Sadeian Girl, she argued that De Sade was a "ethical pornographer". Carter's place was to not reward Juliette as some sort of attractive girlboss – she took half in the identical grotesque acts as the boys – however that, in making her simply as terrible, De Sade was affording her equal standing. It appears one thing of an anomaly that there isn't any excerpt of Carter's treatise right here, though there are intriguing simulated dialogues wherein critics and philosophers enter into conjectured conversations with Michel Foucault, amongst others (these can be found to look at on-line). There are additionally extracts from Pauline Réage's Histoire d'O (1954), an erotic novel that may have made Sade proud.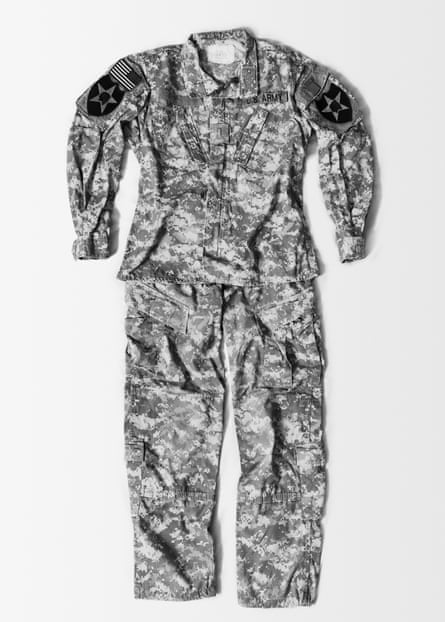 The most visceral installation on the subject of violence against women is the Domestic Data Streamers' commissioned soundscape, The Rhythm of Violence. In a darkened room, time is warped: every minute equates to a year, and every tick of a series of metronomes – which represent different countries – is the death of a woman at the hands of her partner or ex-partner. It might have come off as gimmicky – recall that Make Poverty History advert with Brad Pitt clicking his fingers? But it isn't. Meanwhile, Laia Abril's photographs of defiled uniforms and costumes from her On Rape series expose the abuses of women ingrained in the institutions that Sade so abhorred.Was De Sade evil? That is a question the exhibition aims to explore – sometimes in a startlingly bracing manner. There is a manga comic, Shin Gendai Ryoukiden, and an explanation of its main source: the horrific, four-month brutal torture of a 17-year-old student in Japan, the real-life details of which make it hard not to sympathise with the philosopher Michel Onfray's assertion that it is "intellectually bizarre to make Sade a hero". It's noticeable that Freedom or Evil does not afford any space for Onfray's point of view, nor others of its disposition.Likewise, it would have been fascinating to see a psychiatrist's take on De Sade, and maybe a deeper look at the relationship between prison and psychiatric institutions in general – De Sade was confined to one towards the end of his life.
We are appalled by evil and yet we are perpetually drawn to it. Freedom or Evil offers plenty of evidence of our bloodlust, a perverted feedback loop of perpetrators and voyeurs. One of the most arresting pieces is Mexican artist Teresa Margolles's staggering PM (2012), an entire wall of 313 front pages from a tabloid published in the drugs and gang-ravaged border town of Ciudad Juárez. It's a swathe of violence, just as bloody as the set piece of any horror film. It is evidence of the casual barbarity that pervades society and the mainstream appetite for its detail that De Sade was condemned for.
Violence outside sexual and domestic settings is addressed in an excoriation of the depraved acts and repercussions of colonialism. A Kara Walker film, The Creation of the African-America (2005), argues the indivisibility of American identity from the enduring, brutal legacy of slavery. And the Argentine artist and activist Marcelo Brodsky overlays graphic archive photographs of the victims of genocide with bright, bridging watercolour and unmitigated phrases ("We abused you") in the – unrepentant? – language of colonisers.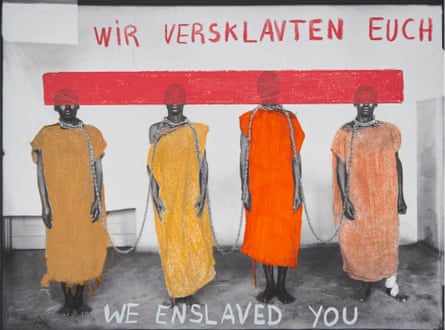 There is room, too, for the infamous photograph of American soldier Lynndie England humiliating prisoners at Abu Ghraib, which remains as shocking a decade later.
Freedom or Evil is not the only recent show to have analysed De Sade's enduring celebrity. In the past couple of decades, there have been several exhibitions, including at the Musée d'Orsay, and a number of books, the latest of which is Joel Warner's The Curse of the Marquis de Sade. De Sade has even become a character in the Assassin's Creed video game, although I won't hold my breath on his adorning keyrings à la Frida Kahlo.It hardly needs saying that this is a show that will not appeal to everyone. Not least those less inclined to indulge work in which children are skinned alive and pregnant women disemboweled. Which is why, back on the streets of Barcelona, I keep a sharp eye out for prospective candidates to whom to gift my complimentary exhibition tickets. It feels like carrying a bomb only certain people would be brave enough to defuse. I alight on two young men on a bench, who may or may not be lightly flirting with one another. I ask them if they like art and if they like sex. They do. So I explain the show and ask them if they would be able to handle it? They look at each other and laugh. "Yes," they reply. "We do porn."
Supply hyperlink